We're Getting Mutants in the MCU - The Loop
Play Sound
The Excelsior class line of cruisers served in Starfleet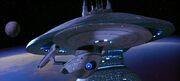 from the 2290s throught he 24th century.
The classes continual service life is only eclipsed by the Miranda and Constellation classes, but the Excelsior beats both, combined, as to number of ships produced.
The first ship of the class, USS Excelsior, was launched in 2285 as a protoype, and commissioned in 2290, and still active as of the 2370s.
The USS Tyr was the last ship of the class completed, leaving three unfinished spaceframes.
Many starships, including the Centaur and Curry classes, are based off of the Excelsiors.
Known Vessels
[
]
USS Excelsior * USS Potemkin * USS Monroe * USS Eagle * USS Ticonderoga * USS Pompey * USS Repulse * USS Roosevelt * USS Remington * USS Paladin * USS Truman * USS Khaleesi * USS Chivalry * USS Washington * USS Chancellor * USS Gallant * USS Hancock * USS Vander * USS Samurai * USS Bushido * USS Okinawa * USS Berlin * USS Fearless * USS Tecumseh * USS Gideon * USS Asclepius * USS Addams * USS Dvorak * USS Potemkin * USS Alliance * USS Morningstar * USS Knight * USS Saint * USS Yamashiro * USS Kremlin * USS Clemenceau * USS Caldos * USS Livingston * USS Interpid * USS Crockett * USS Malinche * USS Gorkon * USS Bridgeport * USS Churchill * USS Kolno * USS Frederickson * USS Cairo * USS Charlemange * USS Hood * USS Laokta * USS Grissom * USS Sunchaser * USS Valley Forge * USS Bolsetu * USS Templar * USS Pushataha * USS Crazy Horse * USS Tyr * USS Farragut * USS Melbourne * USS Enterpise-B