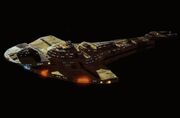 The
Galor class
was a type of a 
battlecruiser
serving in the
Cardassian Guard
during the 24th century and its primary fighting vessel since its arrival.
Officially launched in 2360 there were actually two previous prototypes to bear the class name that was in limited production going back before the Bajoran Occupation.  This gave rise to the modern day Galors being referred to as 'type three" warships.  The design quickly became the most fielded ship in Cardassian history.
Named for a hooded mythological hero, it was designed to match his image.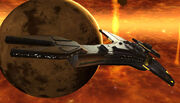 A trio forward and aft torpedo launcher with 200 hundred type II photon torpedoes, a single aft Drevan class disrupter array and fifteen
Ta'vor
made up its offensive armaments.  A class 4 shield generator protected the vessels.
A crew of 300 manned the vessels, with room for another 485 passengers.  Space could be made for a total of 5,600 beings onboard in an emergency, but only 1,120 would be able to flee the ship in its 140 escape pods.
Its embedded type 5D 6 nacelles and class 9/0 warp drive could propel the vessels at warp 9.6 for six hours or more, and a trio of 3A impulse engines let it reach .75c.
A mixture of Hideki class fighters (after 2370) and shuttlecraft normally filled its hangar bay, located forward ventral aft of the aft of the bridge module.
Known Vessels
Edit
Community content is available under
CC-BY-SA
unless otherwise noted.