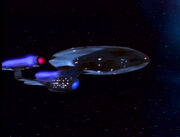 The USS Ambassador was the first ship of the Ambassador class heavy cruiser and launched in 2319 with the registry number of NX-10521.
Over the course of her career, she saw action against the Klingons, Breen, Tzenkethi, Dominion, and Cardassians.
She began her space trials near Helaspont Station, as well as providing a warning to the Tzenkethi Coalition.
In 2322 she was fully commissioned and her prefix letters were changed to NCC.
Service Record
[
]
After a comprehensive refit, she served as a testbed for several new technologies at Utopia Planitia.
Lieutenant Commander Gedna Tachion came aboard as Chief of Security and Second Officer, at Starbase 37.  The ship then made a resupply run to the Federation colony on Dorvan V, dropping recently commissioned Ensign Chakotay off on his homeworld.  Tachion and the Ensign stayed behind with a shuttle to examine the colony's defense grid while the Ambassador moved on to the next colony.
During the Tzenkethi War, the Ambassador sent a team led by then Lieutenant Commander Gedna Tachion to a planet in order to secure a hospital against an oncoming Tzenkethi armada.  Tachion led the team and patients into a bar a few blocks away.  They holed up for five days, defending it against enemy ground forces.  Their defense tied up Tzenkethi ground forces long enough for the ship to evacuate 496 other civilians from the planet.  The evacuees were taken to the nearby Helaspont Station.
Transported Ambassador Curzon Dax to the final negotiations of the Tholian Accords.
Crew
[
]
CO
Captain

Trefi
XO
CDR Gedna Tachion (2357 - 2361)
CDR

Ronald Garret

(2361)
2O
LCDR Gedna Tachion (2351 -2357)
CMO
LCDR Clifford Huxtable (by 2351)
SECO
LCDR Gedna Tachion (2351 - 2357)
NAVO
LCDR Ronald Garrett (2351 - 2361)
CHENG
LCDR Thomas Riley (2351 - 2365)
DCA
LT Roger Deict (2358 - 2361)
CMC
PCCM