The USS Reston was a Nebula class heavy cruiser serving in Starfleet during the 24th century.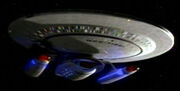 In 2371 the vessel trasnported Captain Gedna Tachion and Lieutenant Commander Roger Deict from the Sol System to a rendevous with the USS Hargrave in the Celes System.
She would later participate in the Battle of Sector 001 in 2373.